What I weekend that was... It was 50% awesomeness, 50% crazy-stress. Go figure.
My Saturday was the awesome part. I met friends, whom I haven't seen in way too long, for brunch and we got to catch up over some
huevos rancheros
and grilled cheese sandwiches.
We then proceeded to walk around the Riverside neighborhood where I randomly walked into a shop selling secondhand furniture. Turns out I walked in
Debbie's Vintage Vibes
. The furniture in the front threw me off for a moment, but you can only imagine how excited I was then I realized that the back of the shop has a room full of vintage clothes (and jewelry and accessories and shoes...). And good ones too! And, I think the best part was Debbie herself. She's so awesome and knows what she's talking about. I kinda didn't want to leave. I'll go back with more time, it's time to thin out the closet again, so I want my vintage pieces to have a good home.
Sunday, on the other hand, ended up being quite stressful. There wasn't any particular one thing that stressed me out, but it was a concentration of so many things. Some longer term plans of ours changed quite drastically, so all of a sudden all schedules are completely off. I have to now finish a lot of projects in a few weeks instead of a few months. I have to give up on some plans. No need to dwell on the negative though, so let's just start a new week with some mail.
Outgoing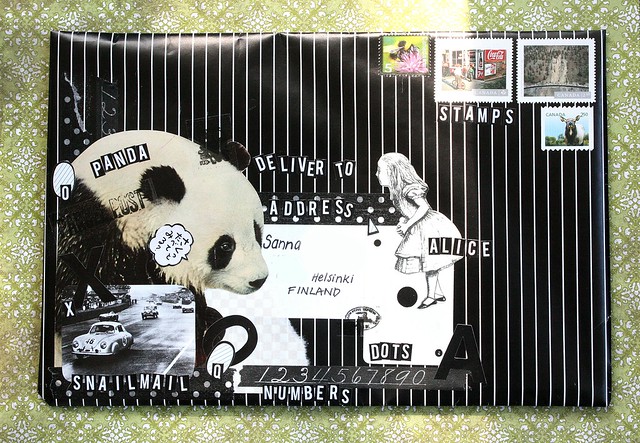 Let's start with the collage one. It's a larger size than my regular ones, so I had to get creative. I didn't have a envelope that large, so I gift wrapped it. There's also a lot more space to decorate, so I ended up making a black and white collage out of paper I had at hand. I find this is how most of my collages come to life. They are a combination of things I have just been working with in the right color scheme.
Then we have a more simple one. A autumn-toned envelope. I actually used the stickers on this mail first and then started using them on the previous one. Hence, spelling out a lot of random things until the letters ran out. Please note the color-coordinated candy at the bottom!
This one's going to
Mary
who, as it happens, just mentioned she's getting a cold. I'm glad I just sent this package out, since it's actually tea. The bag of tea is behind the envelope and all of this is in a cellophane bag. Now, let's just hope it gets there really, really soon. I'd like to think I had great foresight in sending this!
Incoming
Ooh, a fun aqua one for me! How nice is that monogram sticker on the corner there? And you gotta love the Korean stickers! Well, not to mention the actual letter inside. Thank you Susanne!
So, question of the day: if you get into a stressful moment in your life, how do you handle it? Any nifty tricks?
(Apparently writing a blog post seems to help...)